5 Awesome Entry-Level Digital Marketing Jobs and How to Get Hired was originally published on Springboard.
So you're thinking about a career in digital marketing? Awesome, you made a great choice—jobs in this industry are abundant and it's easier than ever to break in the field. 
In this post, we'll be exploring the top five entry-level digital marketing jobs and the skills you need to pursue them with limited experience.
Let's get started!
Why get into digital marketing?
Let's start off by talking about why you might want to get into digital marketing in the first place.  
| | |
| --- | --- |
| Pros | Cons |
| Excellent employment outlook                 | It's a constantly evolving discipline |
| Great pay | Clients can be demanding |
| High job satisfaction rates | Can be creatively draining |
| Remote-work friendly | |
| Creatively fulfilling | |
Let's explore a few of these in more detail.
Excellent employment outlook
The general employment outlook for digital marketers is excellent, with a pretty low barrier to entry. In addition, there are a ton of jobs available and not enough qualified applicants to fill them, for a couple of reasons:
Great pay
According to Glassdoor, the average digital marketer salary is $60,714 year with some senior roles paying twice that. 
Not bad, right? 
High job satisfaction
According to a survey by Digiday, 78% of digital marketers are satisfied with their work. This is significantly greater than the national average of 51%. 
Remote work potential
As the name implies, almost all digital marketing work is able to be done from behind a computer. As such, digital marketers are one of the leading groups of remote workers, with companies realizing that they need to offer the option in order to attract talented employees.
Alright, with that covered, let's look at the best entry-level digital marketing jobs.
Entry-level digital marketing jobs
Content writer
A content writer is someone who writes marketing content for businesses. This includes things like:
Blog posts
Articles
Press releases
Product descriptions
Website pages
We've listed it first because it's probably the easiest entry-level digital marketing role to get into due to the sheer demand. Content marketing has been mainstream for a while, but recent Google updates have put a renewed importance on content quality.  
A good content writer should be able to create a piece of content around a given topic that is well-written, engaging, and capable of ranking in the search engines. 
Skills 
Important skills for content writers include:
A good understanding of SEO writing best practices
Knowledge of how to write for web audiences
The ability to write clearly and concisely
Experience using a CMS like WordPress
Great research skills
You can learn all these skills yourself pretty quickly by just reading up on the topics online, or checking out some free online marketing classes. 
To get hired as a content writer, you'll also need to create a portfolio of writing samples to show to your potential clients/employers. If you haven't done much writing yet, you can still pick a niche you feel comfortable writing about, create a few posts on the topic, and then upload them to a portfolio site like Clippings.me. 
If you've been published before, make sure to include bylined samples of your work with links to the websites—and don't worry if you were a ghostwriter, you can include those links too.
Once you have a portfolio, you can start applying for content writing jobs as an entry-level applicant. Many employers will be happy to hire you even if you don't have any paid writing experience as long as you can show them that you can write well.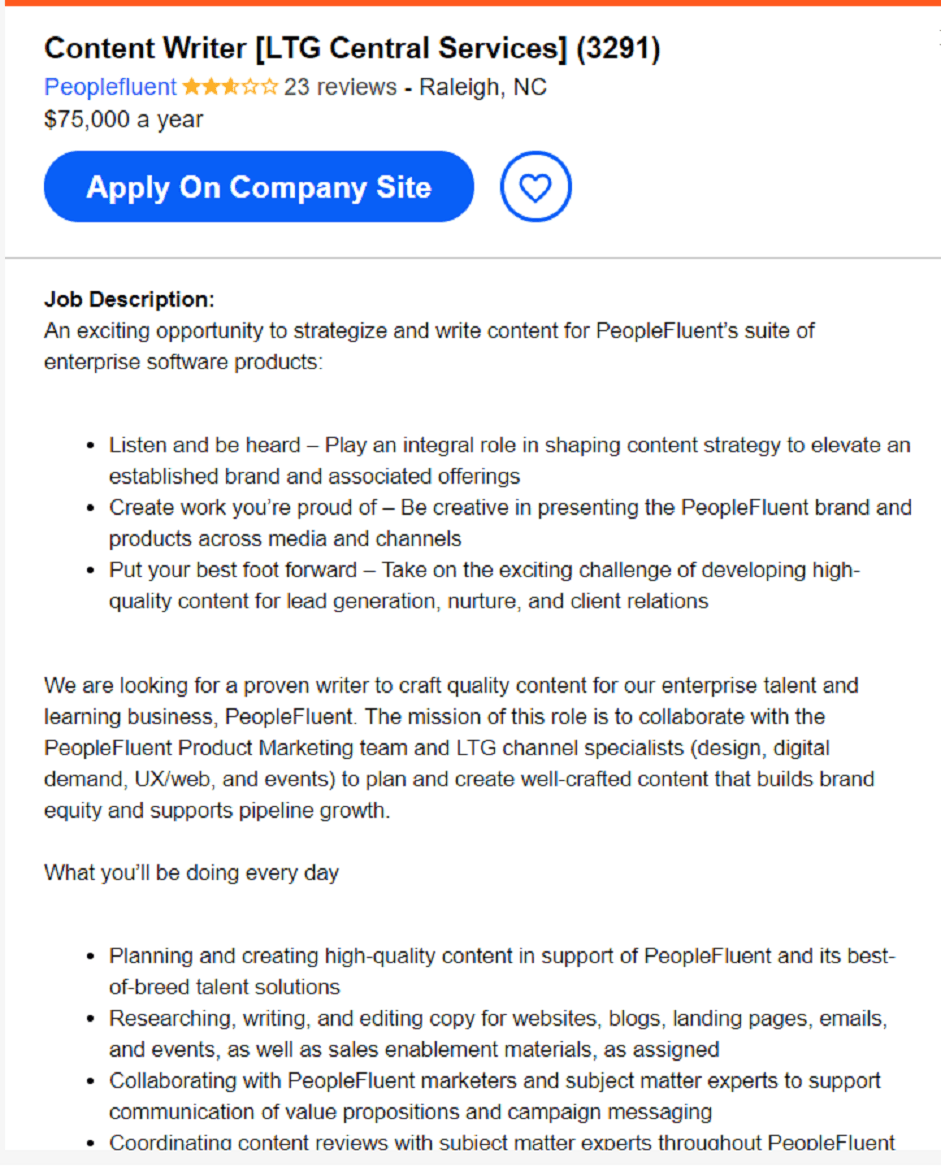 Content strategist
Content strategists are the brains behind the whole content marketing operation and typically oversee all content creation. 
Typical job responsibilities for a content strategist include:
Planning and implementing a content marketing strategy to help the brand attain their marketing goals
Determining topics, titles, and keywords for all written content
Setting editorial guidelines for all written content
Improving content delivery and promotion
Managing the content creation team
Editing content to ensure quality is consistent across the board
Measuring performance metrics and using this information to improve the current content marketing strategy
You may have some or all of these responsibilities depending on your employer and it's not uncommon to do some writing as well.
Skills
Desirable skills for a content strategist include:
Good knowledge of content marketing
Writing skills
Knowledge of WordPress or other CMS systems
Leadership and communication skills
Good time management and organization
Analytical skills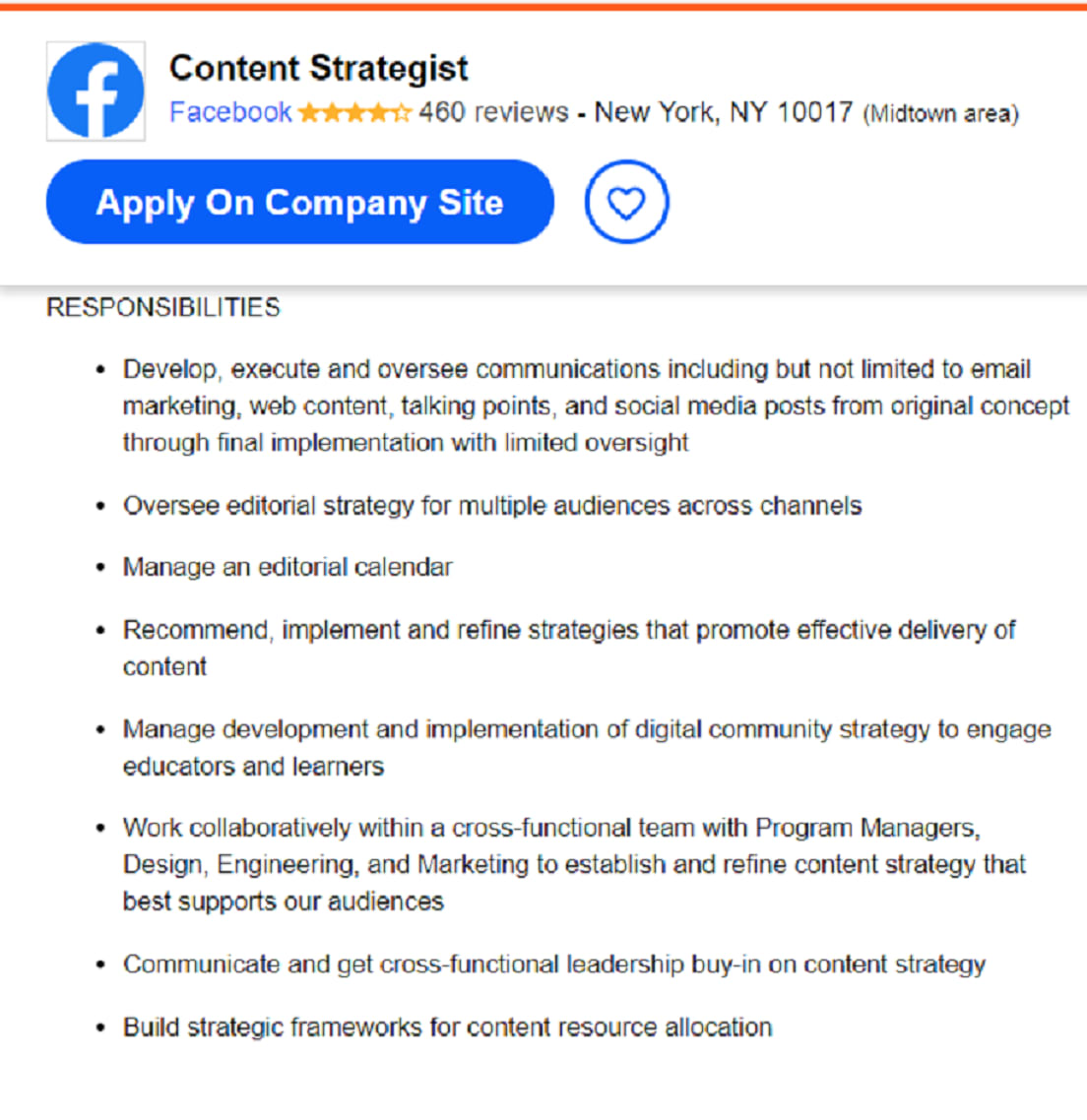 Social media specialist
A social media specialist is responsible for running a company's social accounts and managing all posts and responses. They know what kinds of posts generate engagement (i.e., likes, comments, and shares) and the best times of day to share posts, as well as what hashtags to use.
A social media specialist's job responsibilities include things like:
Planning and running paid social ad campaigns
Writing and scheduling social media posts
Creating visual content (Instagram posts, Pinterest pins, etc.)
Managing a brand's social accounts
Measuring performance metrics to see what's working and what isn't
Coordinating influencer campaigns
If you've got your own social media account(s), then there is a good chance you know a lot of this already and the rest is quite easy to learn through self-study and experimentation.
Social marketing is one of the fastest growing specialties within digital marketing, with 68% of companies planning to spend more in 2019 than the year before. As a result, marketing teams are growing and there are plenty of opportunities for people looking to learn the ropes.
Skills
Skills that employers will be looking for in a social media specialist include:
In-depth knowledge of multiple social platforms
Knowledge of paid social media marketing 
Copywriting skills
Knowledge of social media tools
Good analytical skills
Design and visual content creation skills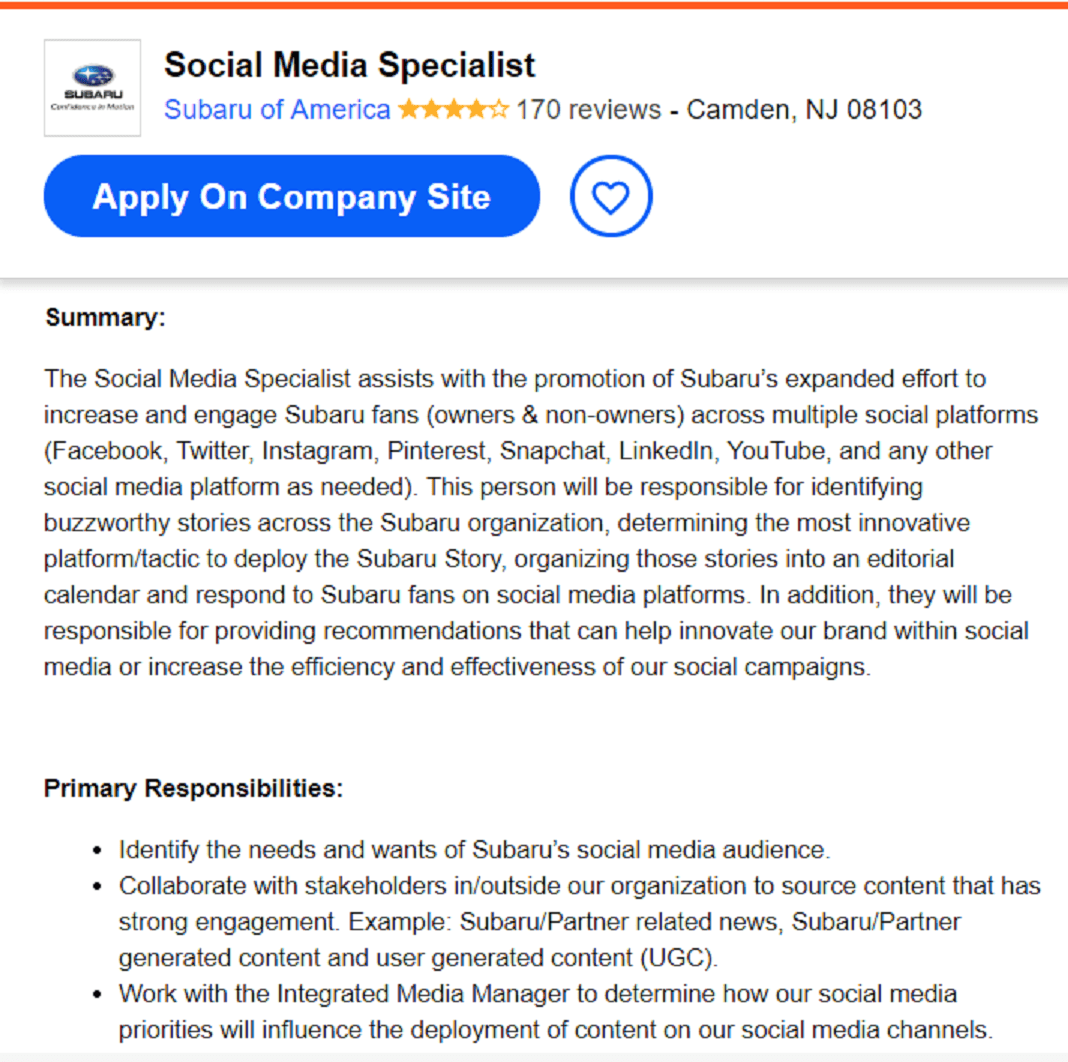 PPC specialist
A PPC specialist is someone who knows how to design and execute pay-per-click advertising campaigns. It's a challenging role that requires a broad skill set but can really add value to an organization looking to grow its brand awareness and sales. 
A PPC specialist's job responsibilities will involve:
Performing keyword research
Creating landing pages
Designing and implementing paid ad campaigns
Analysis of ad performance
The goal of any PPC campaign is to drive highly targeted traffic to your website or store in hopes that it will convert into a sale or lead. To do that, you'll need to have a thorough understanding of who your target customers are and where they spend their time online. You'll also need to know how to design strong landing pages that encourage your visitors to take action.
It's definitely possible for entry-level applicants to find work as a PPC specialist, but it will really help to run a few of your own small-scale PPC campaigns and measure the results. You can then use this as evidence of your skills when it comes to finding work.
Skills
Here are some of the most desirable skills for a PPC specialist:
Copywriting 
Knowledge of PPC tools
Keyword research
An understanding of SEO trends and the Google algorithm
Analytical skills
Knowledge of HTML
Conversion rate optimization
Landing page design skills
Strong organizational skills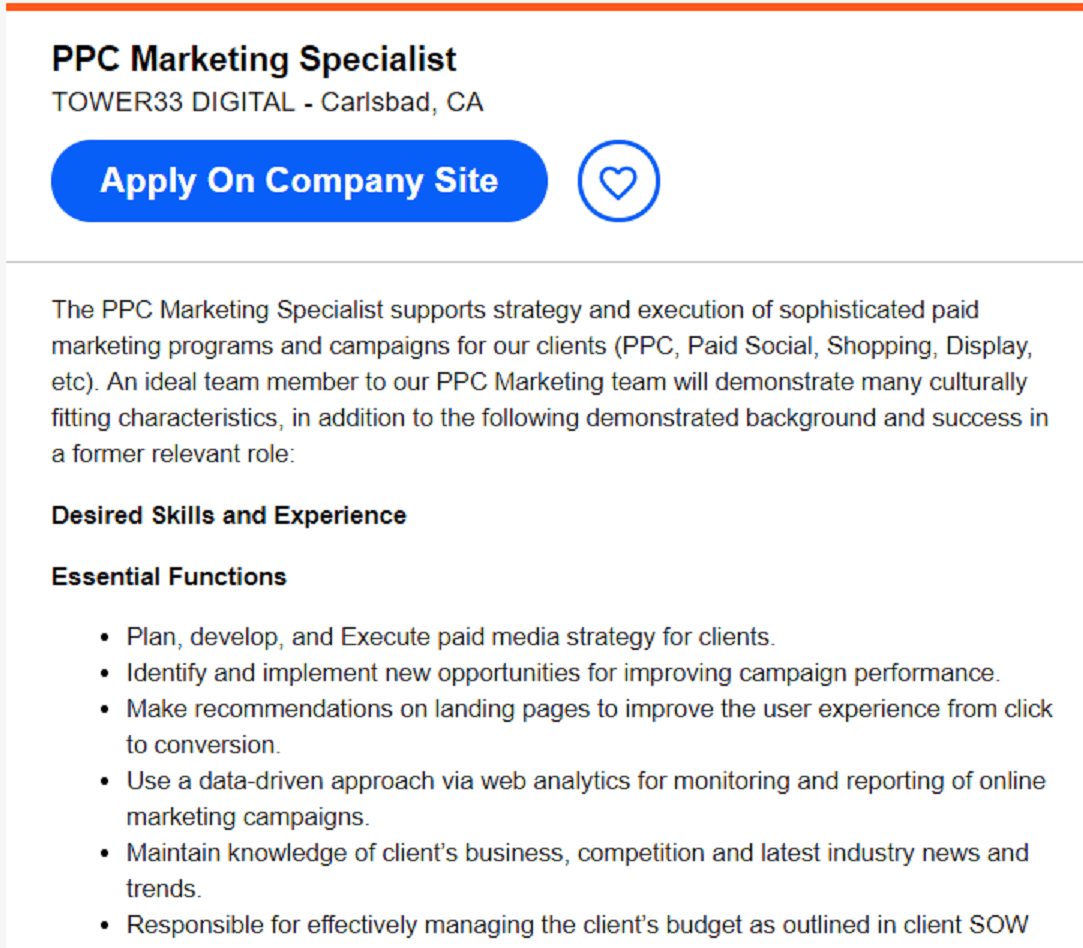 PR/partnership specialist
Last but not least, let's talk about PR specialists. This digital marketing role is all about building relationships with other brands and organizations and can really help expose a company to new audiences and partnerships.
Here's a sample of the kind of responsibilities you might be given as a PR specialist:
Building and maintaining relationships with other bloggers
Designing and executing outreach campaigns
Drafting persuasive emails
Working with influencers
Writing press releases
Like all the other jobs on this list, it's suitable for entry-level applicants as long as you can demonstrate that you're a great communicator and understand the industry. 
Applicants can stand out by having evidence of successful partnerships, a history of successful outreach, or demonstrate that they have connections in a relevant industry.
Skills
Here's what you'll need to be a PR specialist
Excellent interpersonal skills 
The ability to work independently and use your own initiative
Knowledge of different outreach strategies
Strong writing and editing skills
Good attention to detail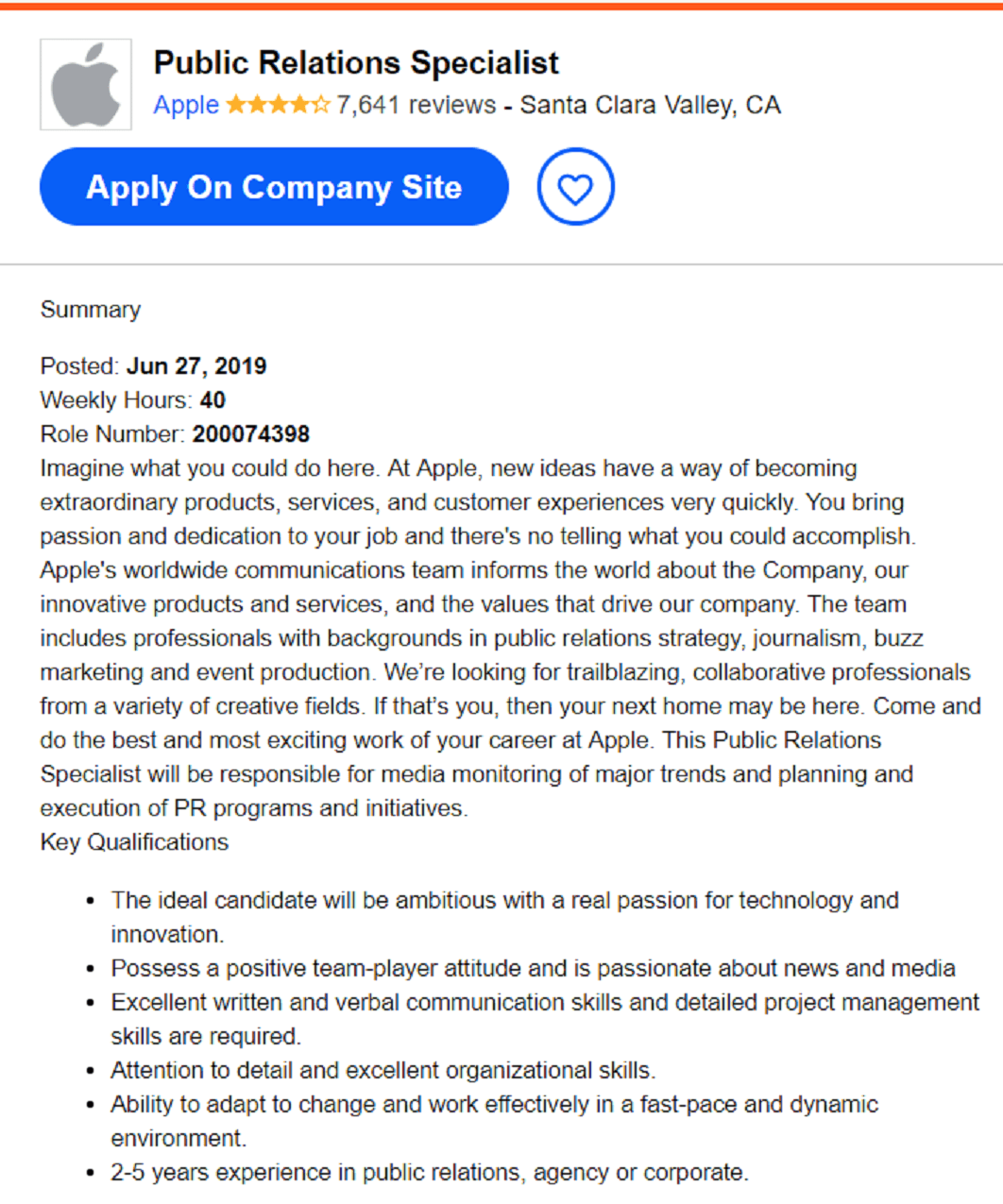 Where to find entry-level digital marketing jobs
We've covered the top five entry-level digital marketing jobs as well as the necessary skills for each. Now, let's explore the best places to find these jobs.
Job boards
A great place to start your search is on online job boards. You can simply type in the title of the kind of role you're looking for and see what's available. Here are a few of the best job boards when it comes to finding entry-level marketing jobs:
Freelancer marketplaces
If you're looking for a more flexible working arrangement, you can find work as an independent contractor on marketplaces like:
Hundreds of digital marketing projects are posted on these marketplaces every week. Applicants bid on jobs and are able to work on their own time and without a contract, which can be pretty appealing if you're looking for flexibility.
The flipside is that you won't have a lot of job stability and you'll be in charge of filling up your schedule and finding new projects.
Social media groups
Another surprisingly effective way to find digital marketing jobs is to browse social media groups related to marketing or remote work. Occasionally, employers will list job openings there and you can find some really good job leads.
We especially like Reddit for this—you can use boards like Hire Me to advertise your services and niche subreddits like Hire a Writer to browse current jobs in your specialty.
Cold emailing
If none of the above are working from you, you can take a more proactive approach to your job hunt by creating your own job opportunities via cold emailing.
If you're looking to go this route, we recommend finding a list of digital marketing companies like the Hubspot Partner Directory, creating an email template that can be personalized, and taking the time to customize each message so that it relates to the agency and their clients. 
You can also use a service like Hunter to help you find the best email—don't be afraid to reach out to the manager directly.
Quincy is part of the marketing team at Ampjar, a collaborative marketing platform for brands. He's passionate about IPAs, strong coffee, and solo travel. 
The post 5 Awesome Entry-Level Digital Marketing Jobs and How to Get Hired appeared first on Springboard Blog.